HOME
---
ABOUT US
---
2017 EVENTS
---
PUBLICITY
---
NEWSLETTER
---
DIRECTIONS
---

"Christian spiritual renewal
in a unique Victorian setting"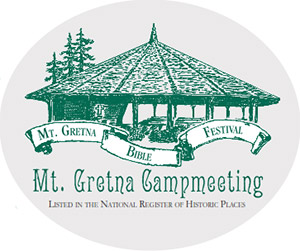 Over its 121-year history (since 1892) many "historic" events have happened at the Mt. Gretna Campmeeting. This year we celebrate a major one of these events-the listing of the Mt. Gretna Campmeeting on the National Register of Historic Places.
Listing on this registry is a definite honor, and requires extensive documentation to verify the historic integrity of the area. For Mt. Gretna all 228 of the cottages as well as the Tabernacle and all other structures (3 pump shelters, for example) had to be listed on an inventory sheet showing location, size, purpose, material, age, and architectural style and a determination as to whether or not it conforms to the general period appearance of the district. Seven maps were required as well as a total of 38 photographs.

The listing does not impose any restrictions on property owners, but it is important as an official recognition that it meets the very high standards of the National Park Service for architectural and cultural integrity. In other words, the listing means that the Campmeeting (the whole area, not just the Tabernacle) is still doing what it was chartered to do in 1892, and it still looks almost exactly as it did 100 years ago; culturally the worship services that attracted the people in the 1890's are still attracting people today.
The preparation of the documents for this application was shepherded by Tom Meredith, a long-time resident of Mt. Gretna, assisted by a small team of dedicated individuals. Tom worked long and hard over a period of several years to complete this application. The historical information and photographs in the application are being prepared as a book that will be made available for purchase this summer.
This historic listing will be celebrated this summer in several ways:
A special celebration service on Memorial Day weekend, May 26, 7:00 pm, to be attended by local political and historical representatives. April Frantz, a preservation specialist with the Pennsylvania Museum and Historical Commission who worked closely with Tom Meredith in preparing the application, will present the registration certificate to Campmeeting president Bruce Gettle.
The annual Massed Choir program on Sunday, July 28, 7:00 pm, will feature a choir of 175 voices directed by guest director/composer Lloyd Larson, from Minnesota. The music will celebrate the Mt. Gretna heritage and will include three anthems written especially for Mt. Gretna, including the premier of one written by our guest conductor for this program, a beautiful, quiet anthem entitled, "A Holy Place."
A special addition at the bottom of the Bible Festival signs mounted along Route 117, announcing the listing.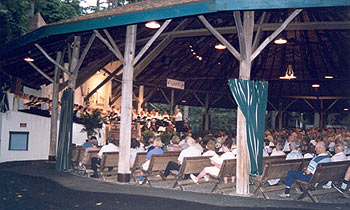 Come once, come often to the 2013 edition of "Summer at the Tabernacle" programs presented by the Mt. Gretna Bible Festival. Remember, there is no admission charge to any of our programs, but we do ask for a generous freewill offering to help us cover our expenses. We will be looking for you this summer at the historic Mt. Gretna Tabernacle.
Have comments, suggestions of ideas for planning events? Contact us here.