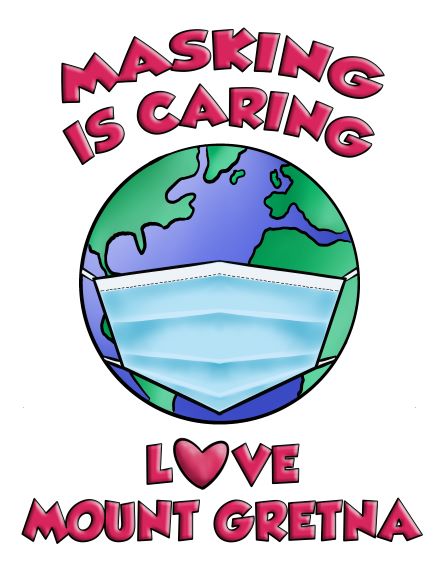 The community of Mt. Gretna is located in the southern part of Lebanon Co., along Route 117, several miles west of Route 72 (Lancaster/Lebanon Road). The Tabernacle (Third St. & Glossbrenner Ave.) is behind the United Methodist Church, in Mt. Gretna's Campmeeting section, east of Pinch Road and south of Route 117.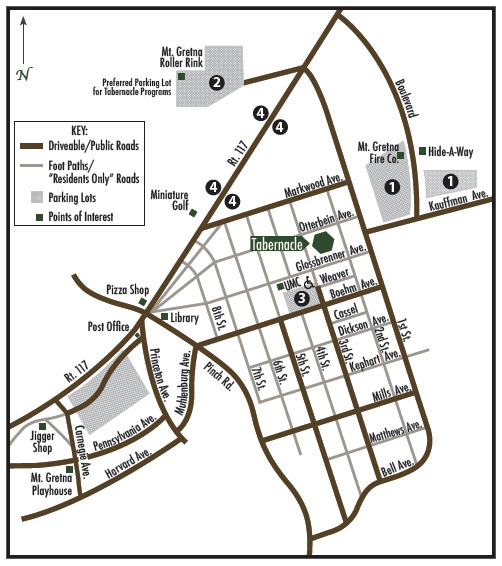 Tabernacle Parking
On summer Sunday evenings, Mt. Gretna is a busy, almost overwhelmed, community. With major crowds drawn to the Tabernacle, Playhouse, Hideaway, and Jigger shop, parking facilities are stretched to their limits. Do consider coming up a few hours early and taking a walking tour of our quaint cottages and "Listed on the National Register of Historic Places" Victorian-era United Brethren Campmeeting.
OUR PRIMARY PARKING AREAS ARE: at the Fire Department (1) lot on Boulevard Avenue, which may be full, OR at the Roller Rink (2) lot across 117, which easily handles the overflow. (Be very careful crossing Rt. 117 at 1st Street). The Mt. Gretna United Methodist Church lot (3) is reserved for handicapped parking only. Supplemental parking may be found in angle parking on either side of Route 117, lot (4). Buses should use 1st Street, drop off at Otterbein Ave., and exit left on Kauffman Rd.
HANDICAP DROP OFF DIRECTIONS: Pinch Road to Boehm Ave. to left at 3rd, down 3rd to the Weaver Ave. Handicap Drop Off area. Park in handicap lot (3).
Always obey the "No Parking" signs, as the Cornwall Township police strictly enforce them. Please do not park on private property. All public parking in Mount Gretna is "first come ..." so why not come up a few hours early and enjoy your late afternoon? Remember our two prime parking areas are identified as lots (1) and (2) on the map. You will find an adequate number of parking spaces there.